Tuesday, May 6, 2008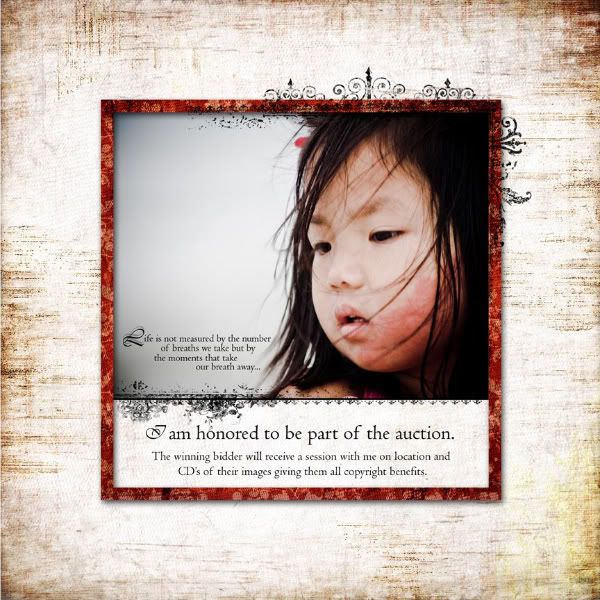 Fine Art Photography with the Pixel Fairy PrincessThe winning bidder will receive a photography session for their children on location. While the Pixel Fairy Princess lives in Atlanta, she travels a lot throughout the South and Mid Atlantic States, and does have some trips planed to certain western states to visit family each year along with MI sometime this summer. Once the session is over - you will receive CD's of your images and may reproduce them as she will give you the copyright to the images. To see samples of her work, visit http://pixelfairyprincess.blogspot.com/

I just want to share with you that Debbie is a professional, award winning photographer. Her normal travel fees are $500.00. For a photographer to give you the copyright and full access to your photos is almost unheard of. This donation is such a beautiful gift and I am just speechless...
The high bidder will surely be not only helping the children to have the surgeries so desperately needed but will be receiving a priceless treasure that I am certain will be cherished for generations to come.
On behalf of the children, thank you Debbie for such a selfless gift and on behalf of the winner I say thank you Debbie I know they will be in awe of their photographs.
Your work has taken my breath away countless times....